Holland America's Oosterdam
We set sail aboard Holland America's luxurious MS Oosterdam, part of Holland America's Vista class of ships.
Holland America's Oosterdam, a Vista Class cruise ship, brings high style to the high seas with thoughtful upgrades and stunning artwork. Guests will have plenty to do on board when not taking in expansive views or stretching out in spacious staterooms.
Onboard Activities
In addition to Gertrude Byrne Promotions jam packed entertainment schedule. Holland America Line cruises offer many activities while onboard. From wine tastings, fitness classes, art classes, shopping and much more.
Dining Experiences
In addition to Holland America Line's 5-star, 4-course dining experiences, bountiful buffets, high teas, continental cuisine, and regional specialties. The All-Star Irish Cruise enjoys many "Traditional" Irish dishes prepared just for us, such as a full Irish breakfast, available daily.
Suites & Staterooms
Holland America Line offer an array of suites and staterooms that are suites to all kinds of travelers. All staterooms include music channel system playing the music of all out wonderful artists. Luxurious shampoos, lotions and soaps, slippers and bathrobes.

Staterooms with room to Move
Holland America's elegant staterooms are the largest of any premium cruise line. Two-thirds of their staterooms feature spacious private verandahs, where you can enjoy complimentary 24-hour alfresco dining. You will sleep soundly on a Mariner's Dream bed beneath finely woven cotton linens. each morning you'll discover the daily satellite edition of the New York Times delivered to your stateroom. For guests staying in the Pinnicale and Neptune suites, the exclusive Neptune Lounge offers a well stocked library. complimentary tea, coffee, snacks, as well as a personal concierge service.
Holland America ships are an average of 25% larger and private verandahs an average of 50% larger than on other cruise ships.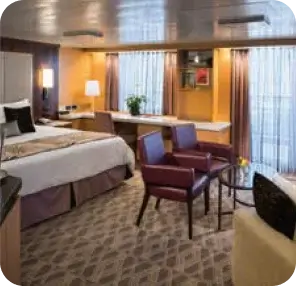 Category: SA, SB, SC
2 lower beds convertible to 1 king-size bed, bathroom with dual vanity, full-size whirlpool bath & shower & additional shower stall, large sitting area, dressing room, private verandah, 1 sofa bed for 2 persons, floor-to-ceiling windows.
*Approximately 500 – 712 sq. ft.with verandah.
Neptune Suite
Category: SA, SB, SC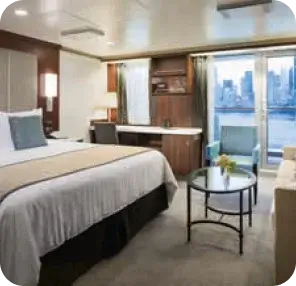 Category: SS, SY, SZ
2 lower beds convertible to 1 queen-size bed, bathroom with dual sink vanity, full-size whirlpool bath & shower & additional shower stall, large sitting area, dressing room, private verandah, 1 sofa bed for 1 person, floor-to-ceiling windows.
* 389 sq. ft. with verandah.
Signature Suite
Category: SS, SY, SZ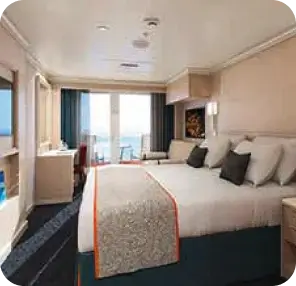 Category: VA, VB, VD, VE, VC, VF, VH
2 lower beds convertible to 1 queen-size bed, bath & shower, sitting area, private verandah, floor-to-ceiling windows.
* 249 sq. ft.
DeLuxe Stateroom with
Private Verandah
Category: VA, VB, VD, VE, VC, VF, VH
Category: I, J, K, L, M, N
2 lower beds convertible to 1 queen-size bed, shower.
* 183-207 sq. ft.
Outside Stateroom
Category: H, HH, G, F, E, D, DD, C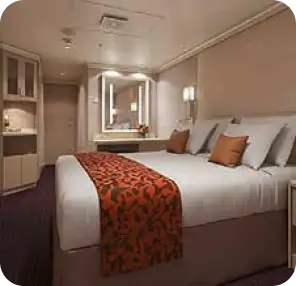 Category: I, J, K, L, M, N
2 lower beds convertible to 1 queen-size bed, shower.
* 183-207 sq. ft.
Inside Stateroom
Category: I, J, K, L, M, N
Enjoy Dining Across a Range of Venues

For an elegant breakfast, leisurely lunch or unforgettable multi-course dinner, The Dining Room is your destination. Behind the scenes, our Culinary Council,® an elite team of seven world-renowned chefs,  and our talented onboard executive chefs have worked to bring each dish to perfection. For dinner, choose from classics such as Boneless Lamb Loin en Croute, Rosemary Roasted Chicken, as well as regionally inspired cuisine and artfully prepared vegetarian dishes. Enrich your journey with an extensive selection of wines, carefully selected by our Wine Curator, world-renowned wine critic James Suckling.
The Dining Room

Explore a world of intriguing culinary possibilities in the Lido Market. Steps from the Lido pool, this modern marketplace includes a curated selection of delicious options that you can grab on the go or have made to order: Breadboard, with freshly baked breads and pastries; Wild Harvest, offering a bountiful selection of hearty salads; Homestead, serving up comfort classics; Distant Lands, featuring global cuisine; Sweet Spot, for ice cream creations and desserts; Roasting Pan, hand-carved meats, fish and other hearty entrees; Perk, freshly brewed beverages and chilled juices; Quench, premium coffee, beer, wine, and soda available for purchase; Rise, savory quiches, croissants and sandwiches, and more.
Lido Market

Pinnacle Grill is the ultimate steakhouse at sea, where an exceptional menu and impeccable service make for one of finest meals you'll ever have. The refined menu features a selection of 28-day wet-aged USDA Prime steaks — meticulously chosen to guarantee the finest quality — as well as classic steakhouse dishes and innovative recipes from James Beard Award-winning chef and Culinary Council® member, David Burke. Every dish is exquisitely prepared, beautifully plated and complemented by a vast collection of award-winning wines. Here, your meal is an event unto itself, a celebration of fine dining and a triumph of flavor.
*Meals at Pinnacle Grill are half price for kids 12 years old or under, or free when they order from the kids' menu.
Pinnicale Grill

Dive-In offers a variety of casual culinary classics, using the highest quality ingredients. Enjoy a burger, grilled to perfection and served on a toasted brioche with our own trade-marked secret sauce. Savor a succulent Nathan's Famous gourmet hot dog with golden French fries. Or choose a grilled chicken breast sandwich or juicy portabella mushroom stack. Dive-In is the perfect spot to dine poolside on the best burgers at sea.
Dive In

At New York Pizza, choose from a variety of scrumptious, 9-inch, thin-crust pies. Named for New York's famed five boroughs, our signature pizzas are made to order and topped with only the finest ingredients. Culinary Council member Ethan Stowell has also contributed signature pizza recipes to the menu. Enjoy your pizza by day while overlooking the Lido pool, and into the night. This venue is New York Deli & Pizza on Koningsdam, Rotterdam and Nieuw Statendam, offering made-to-order deli sandwiches in addition to pizza.
New York Pizza
The Vista Dining Room is a two-tiered diningvenue that provides one of the finest 5-star diningexperiences at sea. John Mulvaney Director ofCulinary Operations along with a talented culinaryteam create special lavish menus specially for ourAll-Star Irish Charter Cruise. There are alwaysvegetarian entrees, "no sugar" desserts and GlutenFree options available. Holland America has a well-earned reputation for its cuisine that is enhanced bythe impeccable service and wine list. Don't miss outon the amazing Royal Dutch High Tea or theChocolate Dessert Extravaganza.
The Vista Dining Room
Cruise Activities
The Main Stage Theatre has three levels and willshowcase Ireland's superstars in our exceptionalshows, performed nightly. By now the All-Star IrishCruise's shows are legendary. Gertrude is a masterat paring artists and their music to create trulymagical shows, which build all week to the specta-cular Finale on the last night. Guests have beenknown to leave the Finale with goosebumps, tears,and laughter, or all three.
The World Stage Theatre
Cruise Activities
Every day aboard a Holland America cruise ship brings a wealth of cruise activities and indulgences. Lay back in your lounge chair by the pool in the Greek sunshine or relax in the spa pools while sipping one of Holland America' signature frozen drinks. One a sea day enjoy a festival of music for your listening or dancing enjoyment while cruising the crystal clear waters of the Greek Islands.
Lido Pool
Cruise Activities
The Oosterdam's onboard casino offers a variety of gaming options. Whether you prefer the slots or want to try your luck at blackjack or poker it has it all.
Casino
Cruise Activities
Greece, Athens (Pireas) • August 18th – 25th, 2024
No other 7 day cruise can offer these enchanting ports of call along with Ireland's greatest entertainers.
Lower Promenade Suites & Staterooms
Promenade Suites & Staterooms
Upper Promenade Suites & Staterooms
Verandah Suites & Staterooms
Upper Verandah Suites & Staterooms
Rotterdam Suites & Staterooms
Observation Suites & Staterooms
Sports Suites & Staterooms