Scheduled Itinerary • February 23rd – March 2nd, 2025
The 2025 All Star Irish Charter Cruise will take place from February 23rd to March 2nd, 2025 aboard Holland America's beautiful Nieuw Amsterdam ship.
All aboard the luxurious MS Nieuw Amsterdam with Gertrude Byrne Promotions. Gertrude's cruise provides a unique Irish entertainment experience created exclusively for her guests. It brings like-minded enthusiasts of Irish music together, singing, dancing, culture, friendships and let's face it….general FUN. A Gertrude Byrne cruise has been described more like a reunion, even by first-time guests. They experience the holiday of a lifetime. With Holland America, guests are offered the ultimate luxurious living while sailing around the beautiful ports of call in the Caribbean. It truly is a one-of-a-kind experience.
No other 7-day cruise can offer these enchanting ports of call along with Ireland's Greatest Entertainers. A Gertrude Byrne Cruise it is the most magical holiday ever.
Book Now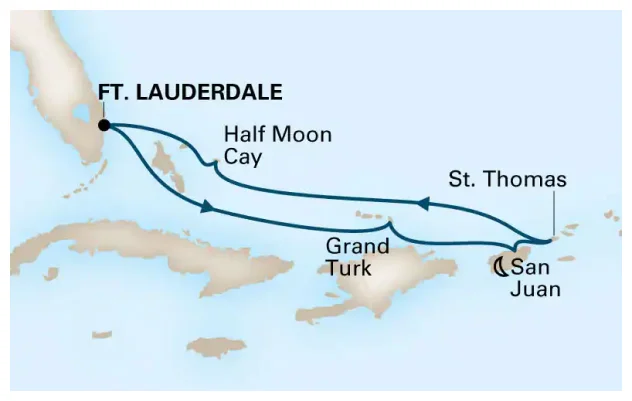 Florida, US
The cruise will begin in Ft. Lauderdale, FL, at Port Everglades, located 10 minutes from the Ft. Lauderdale airport. You will be greeted at the pier by Gertrude and Suzanne. Enjoy a refreshment reception and live music as you check-in. As you come aboard, you will be greeted by Holland America's fantastic staff, who are on hand to escort you to your cabin. This is only a taste of the service you will experience throughout the voyage.
February 23, 2025
Fort Lauderdale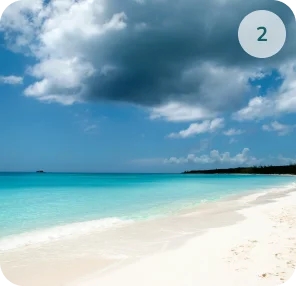 Bahamas
It is truly one of the most beautiful settings in the entire Caribbean. This privately owned 9.2-acre tropical island has over one mile of oceanfront, white sand beaches, and crystal-clear turquoise water. A secure and secluded hideaway undiscovered by the masses. Located on the second-largest barrier reef in the world. Snorkeling and scuba diving off the beach, as well as excellent fishing. Lush tropical foliage with nearly a mile of paths meandering through palm trees and exotic plants. Stop by the market square, where an Irish party will be in full swing. Dance to the great sounds of one of our Irish bands performing live under the pavilion. What a glorious setting, sunny skies, turquoise waters, and palm trees, with our cruise ship serving as a backdrop for you. Having the time of your life. Whether you want to parasail, snorkel, stroll barefoot on the beach, lie in a hammock beneath a palm tree, or gain insight into Bahamian history and culture, you'll find it on Half Moon Cay.
February 24, 2025
Half Moon Cay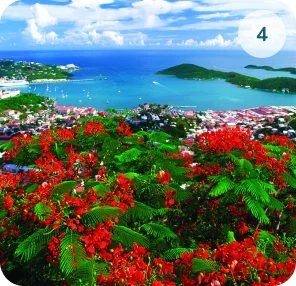 U.S. Virgin Islands
St. Thomas is one of the world's top cruise ports. Its lofty popularity is earned because St. Thomas offers something for everyone. Its duty-free shopping scene is unparalleled, and because St. Thomas is an American port, US travelers get an extra duty-free allowance from customs. Other on-the-beaten-track sites include the world-famous Megan's Bay and a scenic tram ride to a mountain top. But it is also effortless to find some respite from the inevitable crowds by exploring St.Thomas' quieter, more undiscovered side- a lovely historic district, trips to Water Island, north shore beaches, fabulous restaurants in Frenchtown, and an easy jaunt, via 20-minute ferry to tranquil St John. The island of St. John is a lovely and enchanting island that is noted for its unmatched natural beauty, its tranquil peacefulness and its outstanding homes and villas.
February 26, 2025
St. Thomas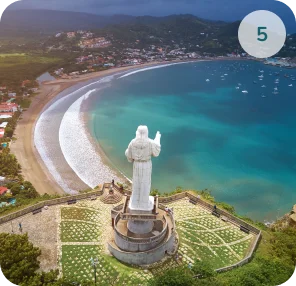 Puerto Rico
San Juan, Puerto Rico, is a popular port of call for many cruisers and is the type of city that you will love to visit again and again. Ships usually dock right in the heart of Old San Juan, which dates back to the 16th century. The most beautiful Promenade in Old San Juan is the Paseo de la Princesa. It is an excellent place for a stroll, experiencing the esplanade, the Old Walls, the governor's mansion, the sunset over the bay, the food, the music, and the overall great vibe. Puerto Rico offers the most exotic aura of America's Caribbean islands. There is something for everyone, and for beach lovers, Condado Beach is a lovely little beach located at the western end of San Juan with azure waters, a cool breeze, and tan-colored sand. It's a fun place to enjoy the Caribbean waters since a rock barrier protects the beach, and the waters are calm.
February 27, 2025
San Juan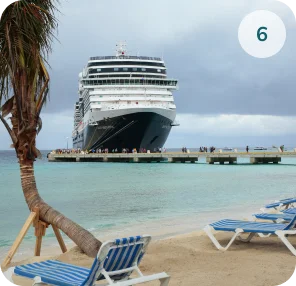 Turks and Caicos
Grand Turk, Turks and Caicos is unlike many other Caribbean vacation spots. Grand Turk is a tiny island and offers an entirely different atmosphere than better-known destinations. It is an island with a laid-back little town with great beaches and a little British Bermudian Colonial heritage. The Grand Turk Cruise Center is the only cruise port in the Turks and Caicos. The highlight of the Grand Turk Cruise Center is the vast, lagoon-like swimming pool. Grand Turk is one of the few destinations in the Caribbean where a great beach can be enjoyed directly off the cruise ships. If you're looking to enjoy some food and drinks, there are two restaurants within easy access: Jimmy Buffet's Margaritaville and and Kacl's Shack. Margaritaville fronts the expansive swimming pool at the Cruise Center, and Jack's Shack is a short walk up the coast on a perfect beach with crystal clear ocean water. Grand Turk has a wide range of tourist gift and souvenir shops, art galleries, and jewelers.
February 28, 2025
Grand Turk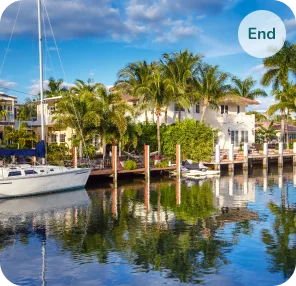 March 2, 2025
Back To Fort Lauderdale
Cruise fare includes access to all the entertainment onboard, meals, ship's amenities and much more. Rates vary depending on the type of stateroom.
Learn More
Aboard Holland America's MS Nieuw Amsterdam
Holland America's MS Nieuw Amsterdam is a luxurious floating resort, offering every comfort, convenience, and amenity that one can imagine.
About Ship